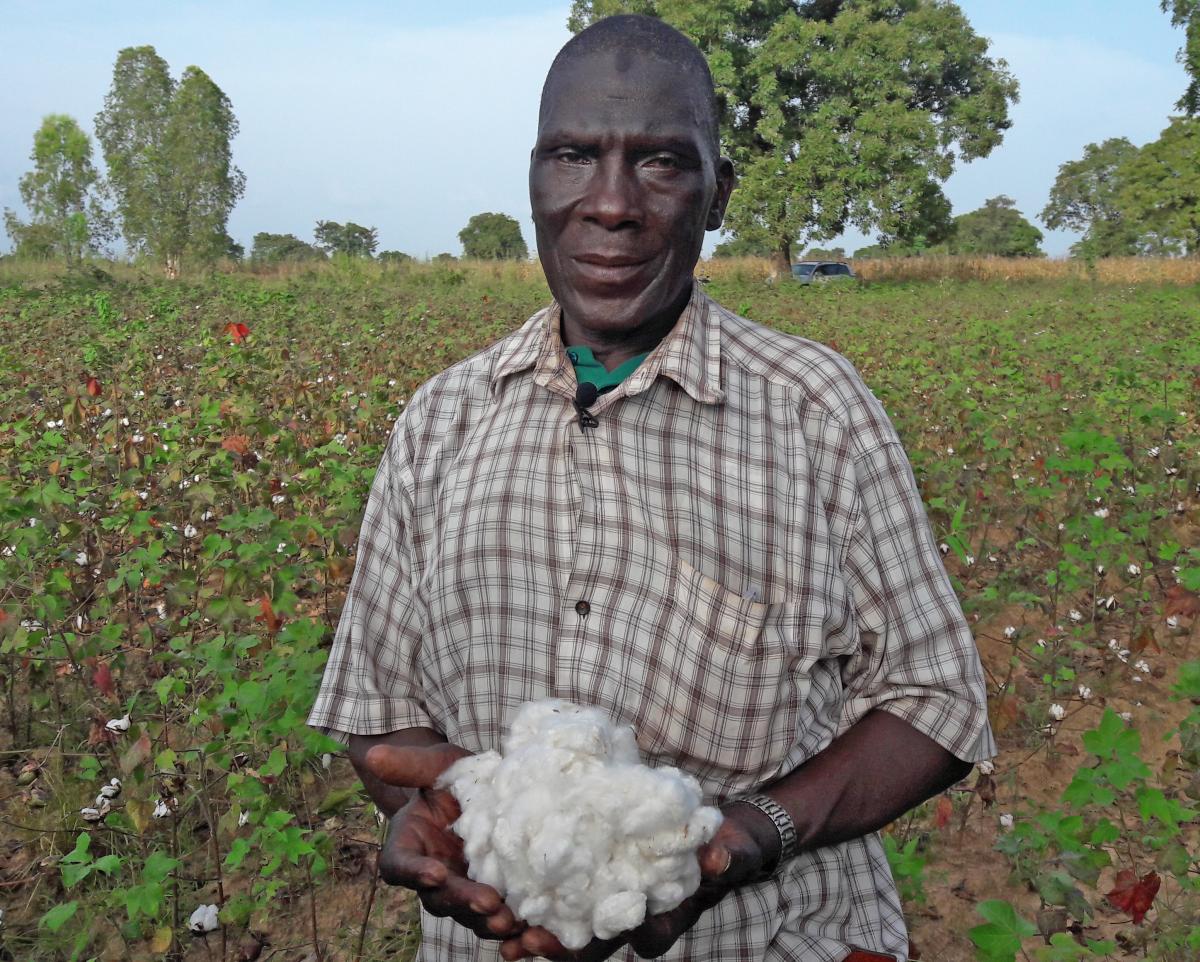 With three wives, 10 children and dozens of grandchildren to take care of, 63-year-old Seidu Konatey is a man who knows no rest. He spends at least 10 hours every day working in his 38 acres of cotton fields at Diguima and Palsama in the Pandema District of Burkina Faso.
With 2018 marking the 35th continuous year that he has been in this business, there is nothing about cotton farming he hasn t seen before. Cotton production is a lot of work as it takes about 24 weeks from planting to maturity. But nothing troubles Seidu more than the bollworm pests that attack and destroy cotton. The larvae of the bollworm have the capacity to cause up to 90 percent yield loss on cotton fields. The pest feeds voraciously on the leaves of the plant, the plant itself and the pod that produces fiber. In West Africa, 25 to 35 percent of all cotton is lost to these pests.
Spraying pesticides has long been the main means of dealing with them. Half of all pesticides imported into Africa are used on cotton, a situation that poses an extraordinary threat to the health of humans and the environment.
Seidu says the problem with pest attack got out of hand in the mid-1990s. Farmers used at least one to two liters of pesticide per hectare to spray cotton fields, at least six times a season. In Burkina Faso, there are more than 600,000 hectares (nearly 1.5 million acres) of cotton fields. That amounts to about 7.2 million liters (nearly 1.9 million gallons) of potentially hazardous chemicals being sprayed in Burkina Faso every year just for cotton.
We were cropping conventionally until it got to the point when we were spraying up to six to 15 times a season, Seidu says. A lot of the chemicals were inefficient in dealing with the pests. We got lots of fields being destroyed. Most farmers couldn t pay back their loans. We kept changing the chemicals but still the infestation was massive.
So stakeholders began looking for alternatives to deal with the pests. Government was desperate as the nation was spending up to US$60 million annually on imported pesticides. In the early 2000s, the US agricultural firm Monsanto began tests to introduce genetically engineered cotton seeds with the potential to combat the bollworm pests in Burkina Faso.
Known as Bt cotton, the seeds contain genes from a bacteria that makes it naturally resistant to the bollworm pests. Bt (Bacillus thuringiensis) is a commonly occurring soil bacteria that produces protein that is toxic to certain pests, including the bollworm, but does not harm humans nor animals. It has been used to successfully combat pests in many GE crops across the globe, as well as in organic agriculture. After five years of trials, the Bt cultivar was made available to Burkina Faso farmers in 2008.
From 15 times spraying a year, they promised us that with Bt cotton, we will spray only two times, Seidu recalls. We were surprised. We tried it and realized that was true. We were all very happy, .
Bt cotton became hugely popular and by 2014, more than 70 percent of all cultivated cotton in Burkina Faso was genetically modified. It helped cut down on the use of pesticides by up to 70 percent, resulting in significant economic savings for farmers and less stress on the environment. With the capacity of the new variety to deal with the pests, cotton yield increased by about 22 percent on the average on Burkina Faso farms. The amount of additional profit gained by farmers averaged about 51 percent in savings on labor for spraying and investments in chemicals.
In the words of Ali Campaore, who is company secretary for the Interprofessional Cotton Association of Burkina (AICB), under eight adoption cropping seasons, the record shows that genetically modified cotton has better control of pests and fostered a good pest control in cotton.
But there were problems with the new variety. Burkina Faso produces cotton that is of premium quality because of the long length of the fiber it produces. Cotton companies expressed concern that the length of fiber from the new variety was shorter and less trendy, and they were having difficulty getting premium prices for the product on the international market.
Before the cultivation of GM cotton, the majority of all cotton in Burkina Faso had an average fiber length of 28.58 mm. But after the introduction of GM cotton, much of the cotton had a fiber length of 26.98mm. Cotton companies say this difference of 1.6mm cost them 50 billion CFA (US$89.5 million) over five cropping seasons. So they decided to take a break on the further planting of GM cotton until the issue could be resolved.
The Interprofessional Cotton Association of Burkina (AICB) has decided to temporarily suspend the cultivation of GM cotton in Burkina Faso from the next cropping season. This decision will stand until a technical solution can be found by Monsanto and any other partner, a statement from the industry in 2015 said.
Varying reasons have been given for the problem. The GM cotton (Bollgard II) was produced by crossing already engineered Bt American varieties of cotton with local varieties in Burkina Faso. Whilst some believe the problem was the result of a low number of repeated crosses (three instead of seven), others say the problem arose because the Bt gene was moved into a local variety that doesn t give 100 percent assurance of long fiber length. But Monsanto officials have a different explanation.
What happened is that Burkina had a biotech crop approved. They did not have an ongoing breeding program to improve the variety, explains Jonathan Jenkinson, the Asia Africa Breeding Lead at Monsanto. So what was happening was, the trait was there and it was providing all the necessary benefits, but the varieties that were being released were not new and improved ones every year. Asked why Monsanto did not insist on the annual improvement programe for the GM cotton, Jenkinson replies: We made the trait available to the Burkinabe research institution. The local owner of the germplasm should have been undertaking an annual improvement program.
Dr. Robert Fraley, vice president and chief technology officer at Monsanto, sheds more light on the issue. The biotech traits work well but the cotton has to be continually bred for quality and yield and all the agronomic properties. It needs an ongoing commitment to both develop the technology, develop the breeding and provide the best system for farmers.
Monsanto and Burkina Faso researchers agree that the problem can be resolved scientifically. Dr. Edgar Traore, Burkina Faso coordinator for the Open Forum on Agricultural Biotechnology (OFAB), says: More backcrossing can be done. Or the trait can be introduced into a local variety with an even longer fiber length to correct this. But those options were not fully explored and now the decision has been taken to withdraw the novel varieties.
Farmers like Seidu are not happy, saying, they would have made a different choice if they had the power. Farmers liked the GMO but did not have a choice than to give it up because the company (SOFITEX) gives you seeds, chemicals and fertilizers as loans. So, if they decide to withdraw it, the farmers don t have a choice, he says. The Burkina Faso government has majority shares in SOFITEX, the nation s main cotton company, which controls everything in the sector from production to processing to marketing.
Seidu is also worried about the return of the days of increased pesticide use. Last year was even better. But this year, the situation will be terrible. I have invested 100,000 CFA (US$200) to buy extra chemicals. I have sprayed 10 times but no yield. Meanwhile, I need to pay back 2 million CFA (US$4,000) as loans. I will struggle to pay back, he laments.
He is also worried for his children. This year, if I am unable to buy bicycle for the children because I have lost money, they will all go into illegal mining activities to get it. If the authorities have our interest at heart, they should bring back GM cotton, he adds.
Soro Mahmoud, a father of seven is one of those farmers who is convinced they have been given a raw deal by the cotton trading company. He has a six-hectare cotton farm at Tugankura in the Dandee District of Burkina Faso. From this field, he would usually get 12 tonnes of cotton. But this year he is expecting only 3 tonnes because of the high pest pressure. He is also worried for his health now that they spray their fields more frequently.
The conventional, you spray six times. And then by the time you finish, you have a lot of problems with your chest, he laments. The pesticides are poisonous. I have been experiencing intoxication. After spraying, I have skin irritation, then high fever, then cold and breathing problems.
At Kiere, in the Hounde District, Bazoume Edith Bienaure, a cotton farmer and mother of two, echoes the concerns about health and safety. They usually grow food crops, including corn, sorghum and millet, close to the cotton fields. She says the foods also get contaminated when the fields are sprayed with pesticides. Once we use the pesticide on the cotton fields each week till we harvest, the pesticides contaminate the food on the field. When we eat the food, it causes stomach ache, headache, diarrhea, and other diseases, she explains.
At a time when other countries are making a lot of progress with the cultivation of Bt cotton, Burkina Faso appears to be on a reverse gear. In South Africa today, almost 100 percent of the cotton produced is Bt, while in Australian, the figure is 97 percent. In the USA, it s 80 percent, and 42 percent in Brazil.
But Burkina Faso now grows zero Bt cotton, and the farmers are not happy. The days of reduced pesticide use on Burkina Faso s cotton farms are gone; the higher income for farmers is no more; and the clean, healthy environment in and around cotton fields has become polluted, threatening the lives of many.
Though the shift may boost cotton company profits, it represents a clear reversal of the tide of progress for those who grow and harvest the crop.
---
Categories