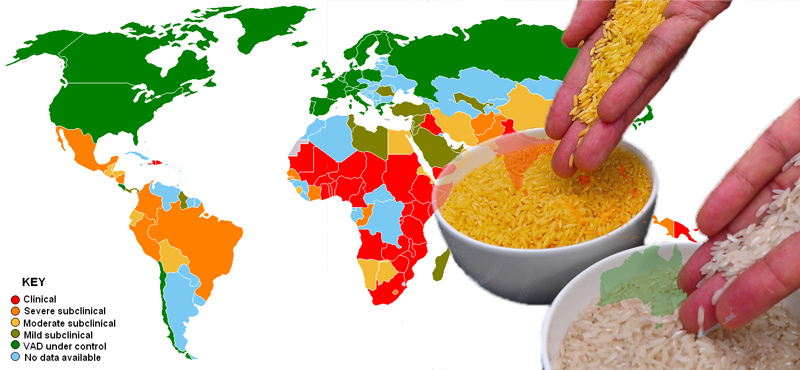 After more than a decade of rigorous scientific testing and extensive research trials amid opposition by anti-GMO groups, Golden Rice is moving closer to the marketplace in the Philippines.
If an application for a biosafety permit is approved, the much-awaited vitamin A-enriched rice variety may ultimately find its way onto the dining tables of Filipino families and help address the health problems associated with vitamin A deficiency.
On Feb. 28, 2017, the International Rice Research Institute (IRRI) and Philippine Rice Research Institute (PhilRice) submitted an application for a biosafety permit to the Department of Agriculture Bureau of Plant Industry (DA-BPI) seeking approval to allow direct use of Golden Rice (GR2E ) as food and feed or for processing.
PhilRice and IRRI are working together in the Philippines to develop Golden Rice as a potential new food-based approach to improve vitamin A status, according to an email from IRRI officials. Our work will a) develop varieties suitable for Asian farmers; b) help assess the safety of Golden Rice; c) evaluate whether consumption of Golden Rice improves vitamin A status; and d) explore how Golden Rice could reach those most in need. Completion of the biosafety assessment is a prerequisite for the conduct of human nutrition studies of Golden Rice. The human nutrition studies are an important component in demonstrating the value of Golden Rice in complementing other approaches to mitigate vitamin A deficiency.
An application for commercialization or unrestricted cultivation of GR2E rice in the Philippines will be submitted in the future. Golden Rice currently is not approved for use in food or livestock animal feed or for propagation in any country
Golden Rice has a very great potential to help address the problem of vitamin A deficiency since we Filipinos are rice lovers, said Dr. Roel Suralta, PhilRice Golden Rice project leader. We eat rice three times a day, and even more.
Publication of information on the biosafety application for pro-vitamin A biofortified GR2E (Golden Rice) in the July 25 issue of Manila Standard heralded the 60-day public comment period. Interested parties are invited to send their public comments to the Director of the Bureau of Plant Industry (Dr. Vivencio Mamaril) through e-mail at bpibiotechsecretariat@yahoo.com.
The proposed use of GR2E is production of rice for human consumption (e.g. milled rice and derived products, such as bran, germ, starch, flour and oil), as well as rice byproducts for use in livestock feeds.
Based on documents submitted by PhilRice and IRRI, GR2E was developed using recombinant-DNA techniques (a method of genetic engineering) to increase the amount of pro-vitamin A (mainly beta-carotene) in the rice endosperm, which is then converted in the body to vitamin A.
In 2006, IRRI and its partners began working with a new version of the Golden Rice trait that produces significantly more beta-carotene than the 1999 prototype, and it is this version of Golden Rice that is still under development and evaluation, accrording to the email from IRRI officials. Golden Rice can be commercially released as a complementary food-based approach to existing vitamin A deficiency interventions only after passing all required tests and regulations and shown to improve vitamin A status. A sustainable delivery program will ensure that Golden Rice is acceptable and accessible to those most in need.
Potential benefits of Golden Rice
GR2E was developed as a dietary supplement to alleviate VAD by providing consumers in countries such as the Philippines, where rice is the staple food, with a portion of their estimated vitamin A daily needs.
Vitamin A is an essential nutrient necessary for normal functioning of the eyes and for protection against infections and diseases. In South and Southeast Asian countries, where two-thirds or more of daily calorie intake comes from rice, millions of people struggle with VAD resulting from an imbalanced diet with limited access to fresh fruits, vegetables and meat.
To put things in proper perspective, data from the World Health Organization indicates VAD afflicts about 19 million pregnant women and 190 million pre-school age children, mostly in Africa and Southeast Asia. VAD, or the lack of vitamin A in the diet, is the primary cause of blindness in children, with about 500,000 reported cases each year worldwide. Persistent VAD is the leading cause of childhood blindness and increases the risk of death from common childhood infections.
In the Philippines, a nation with ample supply of vegetables and fruits, one might believe that VAD should not be an issue. However, research studies show otherwise. The results of a food and nutrition survey among pre-school children revealed VAD increased from 15.2 percent in 2008 to 20.4 percent in 2013. These figures translate to about 2.1 million Filipino kids who are at very high risk of becoming blind or even dying due to preventable infections. VAD increases vulnerability to illnesses including measles, respiratory infections and diarrhea, which are the leading causes of death among children in developing countries.
Despite significant progress since 2003, VAD continues to be a serious public health nutrition problem in the Philippines. Based on a 2016 study done by the Food and Nutrition Research Institute among pre-school age children, VAD prevalence ranges from 19.6 percent for one to five-year olds up to 27.9 percent for children under one year of age.
The government and private sector are taking various measures to address the prevalence of VAD in the Philippines, including vitamin A supplementation, promotion of breastfeeding and complementary feeding practices, nutrition education, dietary diversification, and food fortification.
Researchers note that Golden Rice is not a panacea, or a silver bullet for eliminating the problem of VAD in developing countries. The intended nutritional effect of GR2E is to complement existing VAD control efforts by supplying up to 30-to-50 pereent of the estimated average requirements for vitamin A for pre-school age children and pregnant or lactating mothers in high-risk countries, including the Philippines.
Studies show GR2E safe to eat
Studies clearly show there are no potential health and safety concerns that can be identified with consumption of GR2E. Rather, studies demonstrate that food and/or livestock feed derived from it will be a good source of vitamin A.
The safety assessment of GR2E rice considered information on the history of safe use of rice as a crop, the source of donor genes introduced into the GR2E rice, the genetics of the modified plant, safety of new proteins produced in the modified plant and their expression levels, and nutrient composition of GR2E rice compared to conventional rice.
The trait introduced to the GR2E rice was confirmed by genetic analysis to be stable and passed to the offspring in the same manner as other characteristics of the variety.
Based on a tiered weight-of-evidence approach followed in food and feed safety assessment, the newly expressed proteins in GR2E rice are found to be non-toxic and non-allergenic. Simply put, Golden Rice is safe to eat.
GR2E rice was developed to increase pro-vitamin A (primarily beta-carotene) levels in milled rice. To compare the composition of GR2E versus conventional rice, samples of rice grain and straw were analyzed. Analysis shows that except for beta-carotene and related carotenoids, there were no meaningful differences in the composition of Golden Rice and its conventional counterpart. Aside from the intended production of pro-vitamin A, GR2E rice was found to be compositionally equivalent to conventional rice.
Beta-carotene is the major carotenoid present in the human diet and is an effective source of vitamin A in both conventional foods and vitamin supplements. It is generally regarded as non-toxic and there are no reports of adverse effects arising from consumption of naturally occurring beta-carotene in food.
Anti-GMO activists and NGOs work to delay Golden Rice
The organization Allow Golden Rice Now! reported on its website that Greenpeace s 14-year effort to prevent Golden Rice from being produced and reaching those who suffer from VAD constitutes a crime against humanity, as defined by the Rome Statute.
There is no doubt that Greenpeace and its allies are largely if not entirely responsible for the opposition to Golden Rice that has effectively blocked its cultivation and delivery to the millions of people who suffer from VAD, claimed the group in its website. The group also claimed that the continued lack of access to Golden Rice is resulting in great suffering, or serious injury to mental and physical health.
But IRRI officials said the process of using modern breeding and biotechnology techniques to develop new plant traits such as Golden Rice and integrate them into existing varieties typically takes many years. The time for discovery, development, regulatory approval and marketing of a new biotechnology crop trait is estimated to be 13 years on average.
"The development of Golden Rice is on pace with this timeframe," IRRI officials wrote in an email. "In 2006, IRRI and its partners began working with a new version of the Golden Rice trait that produces significantly more beta-carotene than the 1999 prototype, and it is this version of Golden Rice that is still under development and evaluation. Golden Rice can be commercially released as a complementary food-based approach to existing vitamin A deficiency interventions only after passing all required tests and regulations and shown to improve vitamin A status. A sustainable delivery program will ensure that Golden Rice is acceptable and accessible to those most in need."
---
Categories