Starts: 15 March 2022 12:00 pm EDT
Ends: 15 March 2022 1:00 pm EDT

Discussions about the future of our food system have never been more polarized and grounded in ideology. Scholar and author Robert Paarlberg offers a bold, science-based corrective to the groundswell of misinformation about food and how it's produced.
Join AfS managing editor Joan Conrow in a free-ranging conversation with Paarlberg as we talk about how the world can be fed without harming the environment. We'll discuss food deserts, food swamps, the greening of "industrial farming," animal welfare, biotechnology, global food markets, the true source of the current obesity crisis, and more. Paarlberg will also offers solutions that can make sense for farmers and consumers alike. His newest book, Resetting the Table, provides a road map through the rapidly changing worlds of food and farming, laying out a practical path to bring the two together.
Robert Paarlberg is an adjunct professor of public policy at the Harvard Kennedy School and an associate at Harvard's Weatherhead Center. He has been a member of the Board of Agriculture and Natural Resources at the National Research Council, a member of the Board of Directors at Winrock International, and a consultant to the International Food Policy Research Institute, the US Agency for International Development, and the Bill & Melinda Gates Foundation. He is the author of Starved for Science, Food Politics, and The United States of Excess, among other works. He lives in Massachusetts.
Reviews for Resetting the Table:   
"A provocative book…[Paarlberg] isn't ideological and throws cold water on widely held progressive and conservative views alike. He is skeptical of the emphasis on locally grown food and argues that food deserts aren't so much of a problem as the way food companies have figured out how to market unhealthy foods so that we will buy them. He's making me think, always a good thing." — Nicholas Kristof, The New York Times 
"Chapter by chapter, Resetting the Table demolishes the preconceived beliefs of smart eaters raised on progressive, post-1960s culinary social movements…Through a mix of history, science and reportage, [Paarlberg] makes a convincing case. Resetting the Table is sure to be controversial and should be widely read and debated." — Rien Fertel, The Wall Street Journal
"Paarlberg pushes back against fashionable trends touted by the likes of Michael Pollen and Alice Waters, arguing that locacore and pre-industrial practices require a lot of dough, and won't work for society writ large. A compelling take for anyone interested in food and its future." — Nina MacLaughlin, The Boston Globe
"Astute… Environmentally conscience readers will find much food for thought in this informative narrative." — Publishers Weekly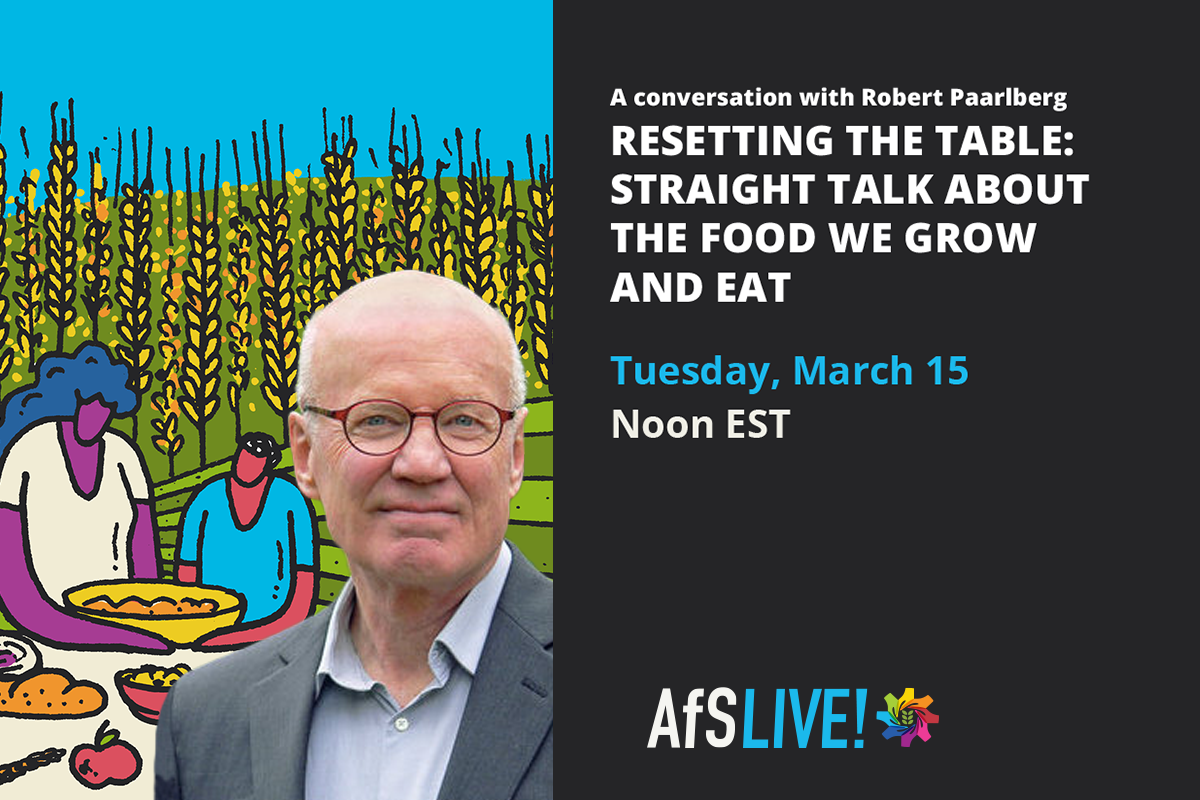 Registration
Bookings are no longer available for this event.